Nottingham Refugee Week 18th – 26th June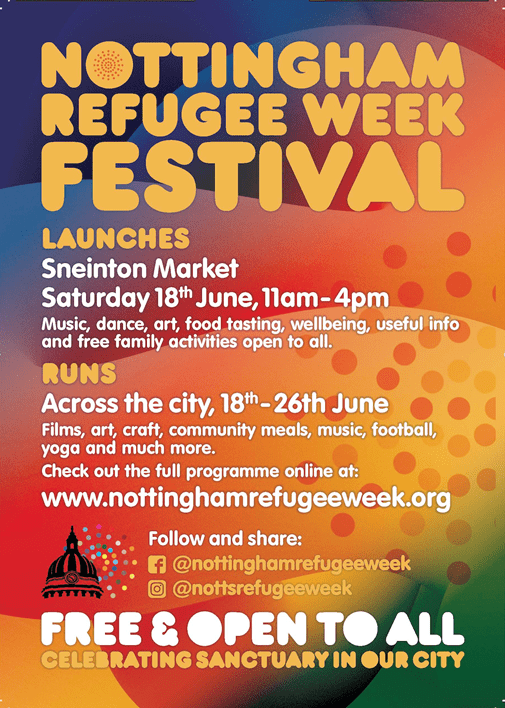 Event Details
Launches 11am Saturday 18th on Sneinton Market. Free food by Pamoja! Free wellbeing goodies from Lush! Free kids' crafts and workshops, dance, music, legal advice, support information and much much more…
Travel reimbursed to all events throughout the week and free tickets for asylum-seeking and refugee community. Please ask your event host for details, or email us at nottinghamrefugeeweek.gmail.com.
Check out www.nottinghamrefugeeweek.org  for details of all events. 
 Highlights during the week include:
Monday 20th, 5.30, Cooking & Eating Together with Refugee Roots. Free.
Monday 20th, 6pm, screening of film 'Hostile' at Broadway. Free tickets for asylum seekers and refugees.
Tuesday 21st, 5pm, return of the Tuesday Night Conversation Class with Red Cross. Free. 
Wednesday 22nd, 5pm, Welcome Back and Reconnect! Party at NNRF and NAT. Free food, music and more.
Thursday 23rd, 10am, Women's Dance Circle. Free.
Thursday 23rd, 7pm, Refugees Welcome! Poetry and Open Mic with Poets Against Racism. Free.
Friday 24th, 5.30pm, FlowerSmile Cultural Evening. Food, music, dance and more. Free.
Saturday 25th, 11am, Refugee Week football tournament. Free.
Connect. Create. Celebrate the culture of sanctuary in our city.
Email nottinghamrefugeeweek@gmail.com with any questions.